Become a WiNtern
WiN awards students an eight-week internship at UT Neuroscience or Dell Medical Neurology in a research or a clinical setting. Students gain significant knowledge about the fields of neuroscience and neurology, hands-on experience, and personal and professional growth. The internship includes a $3,000 stipend so the student can supplement earnings while spending the summer learning.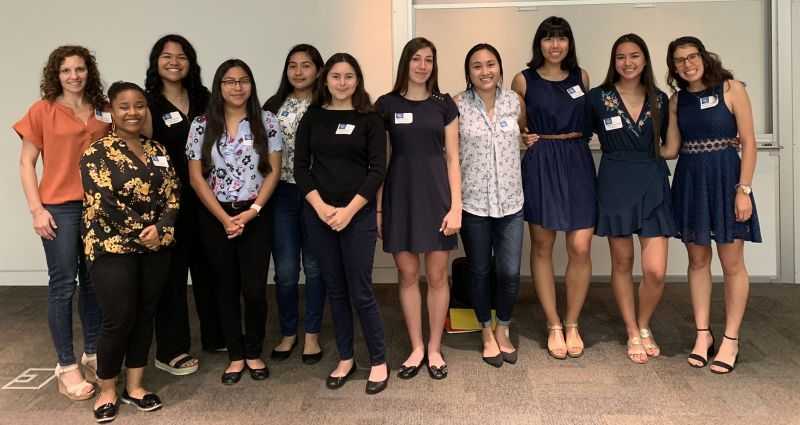 My WiN internship in 2019 was quite influential to where I am today. It was one of my first introductions to applied engineering and how it can be used to get better results in medicine.
Student WiNterns
A Day in the Life
Each WiNtern is assigned to a faculty host and their lab. On a daily basis, she shadows and works hands-on with her faculty host and lab team to understand lab protocol, complete research tasks, and learn how the Scientific Method furthers research in that lab and in the fields of neuroscience and neurology.

Throughout the internship, interns come together for workshops and speaker sessions to broaden knowledge in these fields and to enhance personal and professional development.

After four weeks, the interns share experiences and lab research through presentations and lab visits. At the internship's completion, each intern makes a final Presentation of Learning.

Requirements
Student must be 18 years old by internship start date
Interest in neuroscience and neurology
Commitment to spending a minimum of 30 hours per week in the internship
A completed online application, which will be accessible starting from January 2024. The application deadline will be announced soon.
Resume, transcript, and faculty recommendation are required as part of application
Important Dates
Don't miss out on essential application and internship timelines. Subscribe to our WiNsider newsletter below, and you'll be the first to know about the latest announcements and updates.
Applications available: January 2024
Application deadline: To be announced shortly
Announcement of recipients: To be announced shortly
Internship dates: To be announced shortly
Next steps
To Apply
First, download the application to prepare your answers to the questions. When ready, copy and paste answers into this form and submit. You will be asked to upload your resume and transcript as part of the application form. You may not save this form and return later.
Become a WiNsider!
Join WiN's ever-growing community of neuroscience enthusiasts and be the first to know about our latest initiatives, events, and program updates. Subscribe and help empower tomorrow's innovators, today.